The MA-N series wood gasifying boilers meet the strictest European requirements for ecological and economical combustion given by the 5th emission class (EN 303-5:2012) and the ECODESIGN standard. They represent the most energy-friendly way of using wood, saving operating costs and user comfort.
They are available in power versions 28 and 38 kW.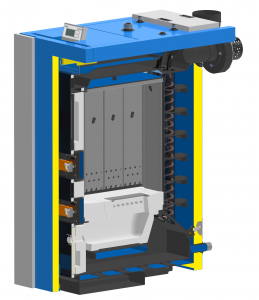 MA-N cut
The boilers are constructed of high quality materials.
The main advantage is a simple construction, consisting of an application and combustion chamber, a highly resistant refractory concrete nozzle, a high heat-resistant ceramics, a tube heat exchanger and mineral insulation.
The boiler body is made as a weldment from high-quality steel sheets.
The inner part consists of a boiler steel sheet with a thickness of 6 mm.
Combustion is solved on the principle of generator gasification at high temperature (approx. 1100-1250 ° C).
The combustion of wood gas is supported by an exhaust fan, which sucks the primary air into the chamber and the secondary into the nozzle by means of Lambda probe-controlled dampers.
This combustion system is extremely economical, saving up to 40% of fuel compared to the still common burning of wood in cast iron boilers.
The boilers are equipped with a safety cooling exchanger against overheating.
Other advantages include high reliability, low wood consumption, easy operation, dust-free operation, burning of soft and hard wood, large feed chamber, minimal amount of waste and automatic shutdown of the fan and pump.
Basic cleaning of the boiler is very easy with the lever. Repeated movement cleans the exchanger to a sufficient level. The high comfort of the operator when adding fuel is ensured by the exhaust fan, which sucks out the exhaust gases so that the smoke does not escape into the space.
We recommend connecting the boiler with Magamat or LADDOMAT (Laddomat 21-60, 11-100 depending on the output), which achieves a minimum return water temperature to the boiler of 55 ° C as a protection against low-temperature corrosion. The boiler output temperature is maintained in the range of 80 to 85 °C. All boilers are supplied with a cooling safety exchanger against overheating (it is necessary to install a safety valve DANFOSS BVTS 3/4 "). MAGA s.r.o recommends an optimal instalation with the storage tank, which will reduce fuel consumption, increase the life of the boiler and increase the comfort of heating.
Benefits
high efficiency
combustion of the large logs of wood and wooden waste
easy

operation and cleaning

multilingual electronic control unit

long burning time (8-12 hours)

powerful exhaust fan

automatic shut-off of the fan and pump when the fuel burns out

quality high heat-resistant ceramic parts – long life ceramics
Technic parameters
Universal installation scheme