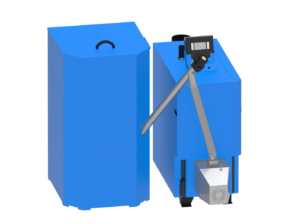 The design of the P series automatic boiler ensures high operational reliability, durability and easy operation. Boilers of the P series achieve high energy efficiency up to 93%. The boiler consists of a welded steel sheet with a horizontal tubular exchanger. The inner wall of the boiler is 5 mm thick. The burner with automatic ignition is located in the lower door – which enables an easy access for the cleaning of the boiler exchanger or burner. The burner contains 2 screw conveyors – the first provides fuel withdrawal from the tank and the second subsequently feeds it into the combustion chamber – while also mixing the fuel in the combustion chamber. This process enables a combustion of the lower quality wood pellets. The entire boiler operation is controlled by an electronic control unit that has a number of functions, e.g: modulation of fuel feeding, fan speed, equithermic control, pump control, fuel shortage reporting. It is possible to connect a room thermostat unit or the popular web-module.
Benefits
Wide range of power types: 20kW, 30kW, 40kW, 49kW, 75kW;
High user comfort – once per week to feed the boiler and remove ash;
Very high efficiency (93%);

Ecological combustion;


Automatic ignition, minimum service and maintenance;

Internet web module enables to control the boiler;

Possibility to connect a room thermostat unit;

Possibility of heating domestic hot water;

User friendly operation – touch screen;

Reasonable price.